Multi-family projects and residential developments have specific railing needs.
Whether it is a deck railing, fence or windscreen that is needed, BW Vista Railings Systems  are professional grade.

Download our brochure to have with you for reference anytime.
New special offer!
BWVISTA has introduced a folding table option to accomidate the versitality of the designed railing system.This is a special deal only introduced in black at this time.——>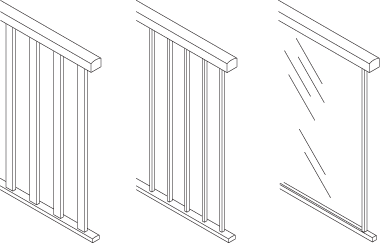 COLOUR OPTIONS
AN ARRAY OF COLOUR OPTIONS TO MEET THE DESIGN STYLE OF YOUR DEVELOPMENT
Whether it is our standard colours, our semi-custom Diamond Series Colour program or something completely custom, we're able to contribute to the style of your building with our popular architectural colours. Find what you need to make your project stand out with BW Vista Railings Systems.
STANDARD COLOURS
Often times simple is better. When it comes to professional aluminum railing systems, we know that over 50% of our customers opt for one of our four Standard Colours. Professionally powder coated and painted with a Super Duarble XP polyester TGIC powder, these colours have stood the test of time, proving their resilience through decades of weather, wear and tear.
DIAMOND SERIES
In addition to our four standard colours, BW Vista Railings System offers a premier line of popular architectural colours. BW Vista Railings Systems has developed and optimized the Diamond Series Program of colours. These 11 popular architectural colours enable any BW Vista Railings Systems project the affordability to coordinate railing colours with its setting, producing a truly outstanding result. For even more options, ask your independent BW Vista Railings Systems authorized Dealer or Installer about our custom colours program – XP RAL Classic Series.
View our 11 Diamond Series colours
COATING PROCESS
BW Vista Railings Systems uses the latest technology in aluminum alloy and exterior metal coatings available. While many coatings used on other railing systems have been designed for interior applications, BW Vista Railings Systems materials and processes have been specifically designed for use outdoors. This ability to resist weathering and ultraviolet damage allows our Powder Coated finish to meet one of the toughest architectural standards in the industry, the AAMA 2604.
Pre-treatment of the aluminum, application and the proper curing of the powder coat finish are critical. If any of these procedures fail, the finish will peel, chip, and flake off. We electro-statically apply our powder coat finish in-house. We set the bar high when it comes to quality and undergo daily testing procedures to ensure adherence and cure of the powder.
CARE & MAINTENANCE
Wash BW Vista Railings Systems product regularly using a good quality automotive car wash, and rinse with water along with an application of quality automotive car wax. Do not use acid solution, steel wool, or harsh abrasives. Clean glass panels by removing dust and grit with generous application of water, and remove grease and film deposits with mild solution of soap and water; and rinse thoroughly. We recommend annual inspection of railings and fasteners to ensure structural integrity. Please check and replace caulking according to manufacturer's recommendation.
It is essential to fully read and follow the maintenance instructions. Failure to do so may result in product damage, for which BW Vista Railings Systems accepts no responsibility.
Although not covered by this warranty, BW Vista Railings Systems standard coating life in salt air conditions can be extended significantly by washing the salt off the product and applying a coat of good quality automotive wax r