For more than 20 years, Island Deckmaster has served homeowners on Vancouver Island who want to upgrade their property with a custom deck.
We use our experience to help you achieve the best results, whether you need to modify an existing deck or install a new one.
Our expertise means we know how to select and install quality products for your project.
Our residential services consisting of new installation and restoration
can  provide you with the following Products:
• A certified PVC roof-grade vinyl membrane from Tufdek®
• Liquid applied membrane waterproofing from Tremco® or Mastercraft®
• The professional series of aluminum railings, stair railings, hand railings, fencing, and windscreens from BW Vista®
We can provide these services in any residential application, including existing homes and new constructions. Learn more about our capabilities by viewing our gallery.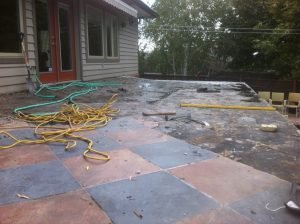 Island Deckmaster also offers our decking expertise to owners and managers of townhomes, multipurpose condominiums, offices, and other commercial buildings. Our commercial services extend to both deck installation and restoration, and we use the same high-quality materials we trust for residential projects.
Thanks to our attention to detail and our eye for quality, we come highly recommended from some of the area's leading contractors listed. View our past commercial projects to see our capabilities.
Learn More About Your Options
If you have any further questions about our services, or if you would like to have us give a free estimate for your Project, call us at 250-477-9777.