Give us a call on this special there is only one roll Left
we want this product gone! 2504779777
Dectec brick . This product is on sale until gone and will be removed when stock is gone.great deal we want this out of our shop!
Island Deckmaster give us a call 2504779777
New Fuel Economy Upgrades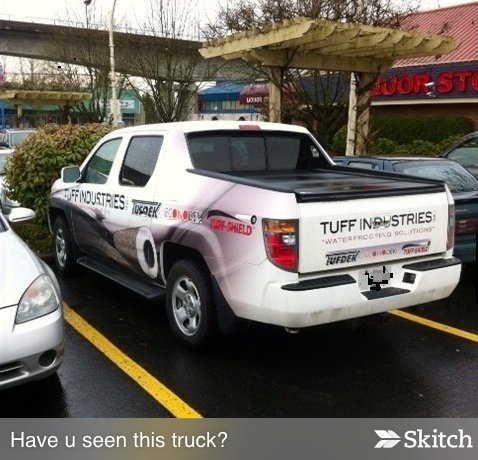 Have u seen this truck…send us the licence plate # with a pic identifying it on a landmark in Victoria or any other area on the island or give your full name to brian to send in to us and get a 15% discount to your proposal on any product in stock! Compliments to  Brian Hughes- president of Tuff Industries who has mentioned a trip to the island soon!
Our ongoing changes to cut costs will eventually lead us to more economical safe and reliable vehicles in order to keep up with new age developments. Imrovements in websites and vehicles are always in motion. Thanks to the presedent Dean Phelps.
Waterproofing marine boats or a recreation vehilcle may me what u are looking for.Both vinyl membrane or liquid applied membrane can be looked upon for a possible solution.give us a call keep it waterproof and get out there! 2504779777